How to get customers to come back to your online store and buy more? How to get more shares on your social media accounts? This article will debrief a few of recent digital marketing research findings and provide you with corresponding tips to back up your digital marketing strategies. 
# 1 Make them guess
Picture credit: Guessed in the Guess Where Berlin Group by Cori & Olly!
Want your consumers to come back with a digital marketing strategy? Giving them a bonus right after a purchase might not be the smartest way. Researchers from Hong Kong and Chicago have conducted four experiments to test the effect of uncertain bonus. The results of their study show that people are more likely to repeat a behaviour when the reward is uncertain, compared with certain rewards. So the trick is to delay the surprise a litle bit and then reveal.
Marketers have already been applying this to practice. AliPay for example, "China's leading third-party online payment solution" as it claims, let their users scan QR-codes to receive a small amount of bonus money up to 99 CNY. Every user can scan only once per day, and the money can only be used within AliPay's app. 
The process of guessing what's coming and opening reveal the sum of money add a sting to user experience. The limitation that everyone can only scan once per day motivates users to come back. The collected bonus money contributes directly to the increased likelihood that consumers use the service as a payment method. It makes people come back.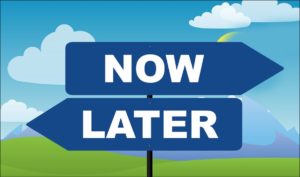 What to do: To retain new customers, do in the old good way and give them certain bonuses. For customers with higher level of loyalty, try delaying revealing the exactly worth of the bonus, or the content you are pushing, by a few seconds. Remember to resolve the uncertainty immediately. Otherwise your customers can lose patience.
# 2 Nail it with Drama
To go viral is a dream of every marketer on social media and/ or Youtube. When it's hard to achieve it feel like a daydream. When badly done, it turns into a nightmare. Now there is at least one thing you can do to boost your campaign: to nail it with contents integrated with emotions.
Emotional integral content calls for sharing. Another research in digital marketing shown that people who see such type of content are more likely to click on the share button, compared to those who see informative ads. People share because they wish more people in their circle could relate.
What if people don't relate at all? That can generate shares, too. See Nike's recent commercial with Kaepernick for an example. The lovers and haters of this campaign created huge effect that has an estimated value of $43 million. This is in line with an earlier research on social media from 2017. Researcher found that content that wakes "anger, shock or awe" reactions from people are more liable to go viral.
What to do: Be careful with creating overly controversial campaigns that lead to polarized reactions. Not every brand is Nike.